The Land & Freedom Camp has landed!
Below is the location of the camp – behind the Holy Trinity Church on Clapham Common: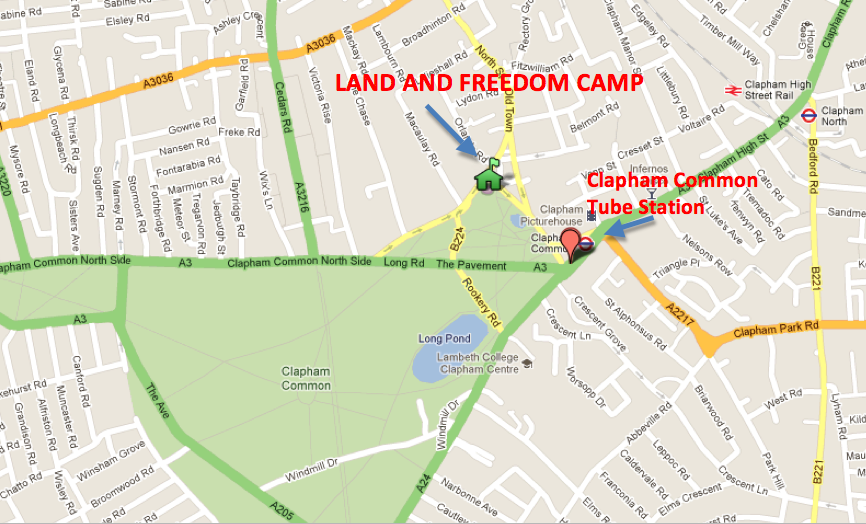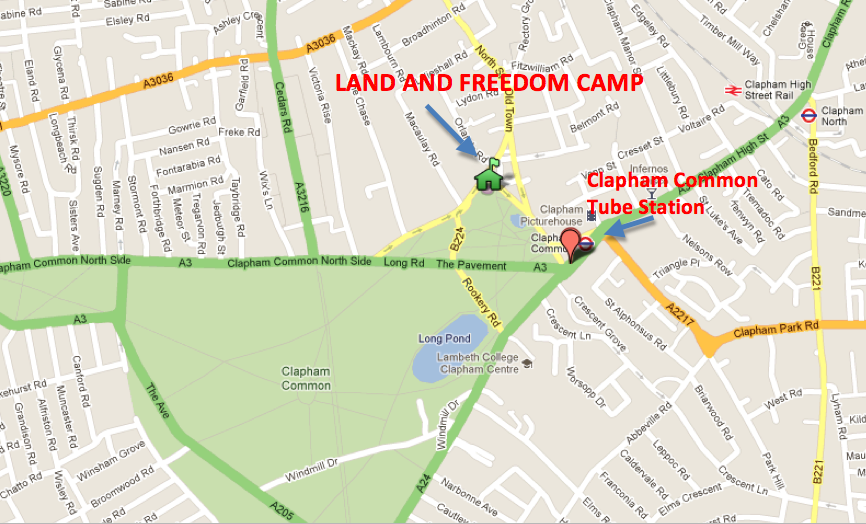 We've setup an information point today, Sunday 18th of September. Feel free to come and join!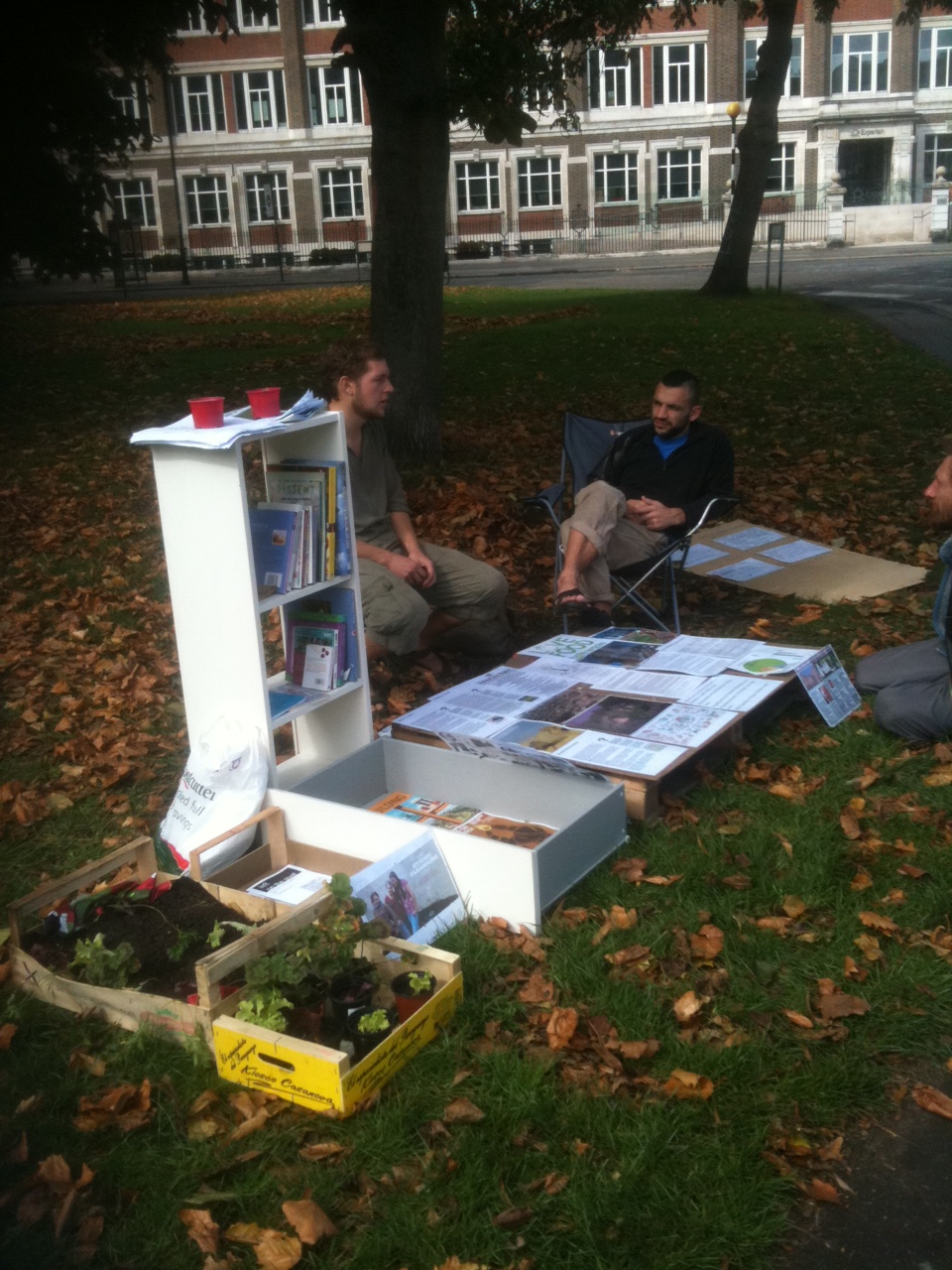 Hello,
We are on day 2 of Land & Freedom Camp having enjoyed a peaceful night on the Common with no serious disturbances or oppression from anyone.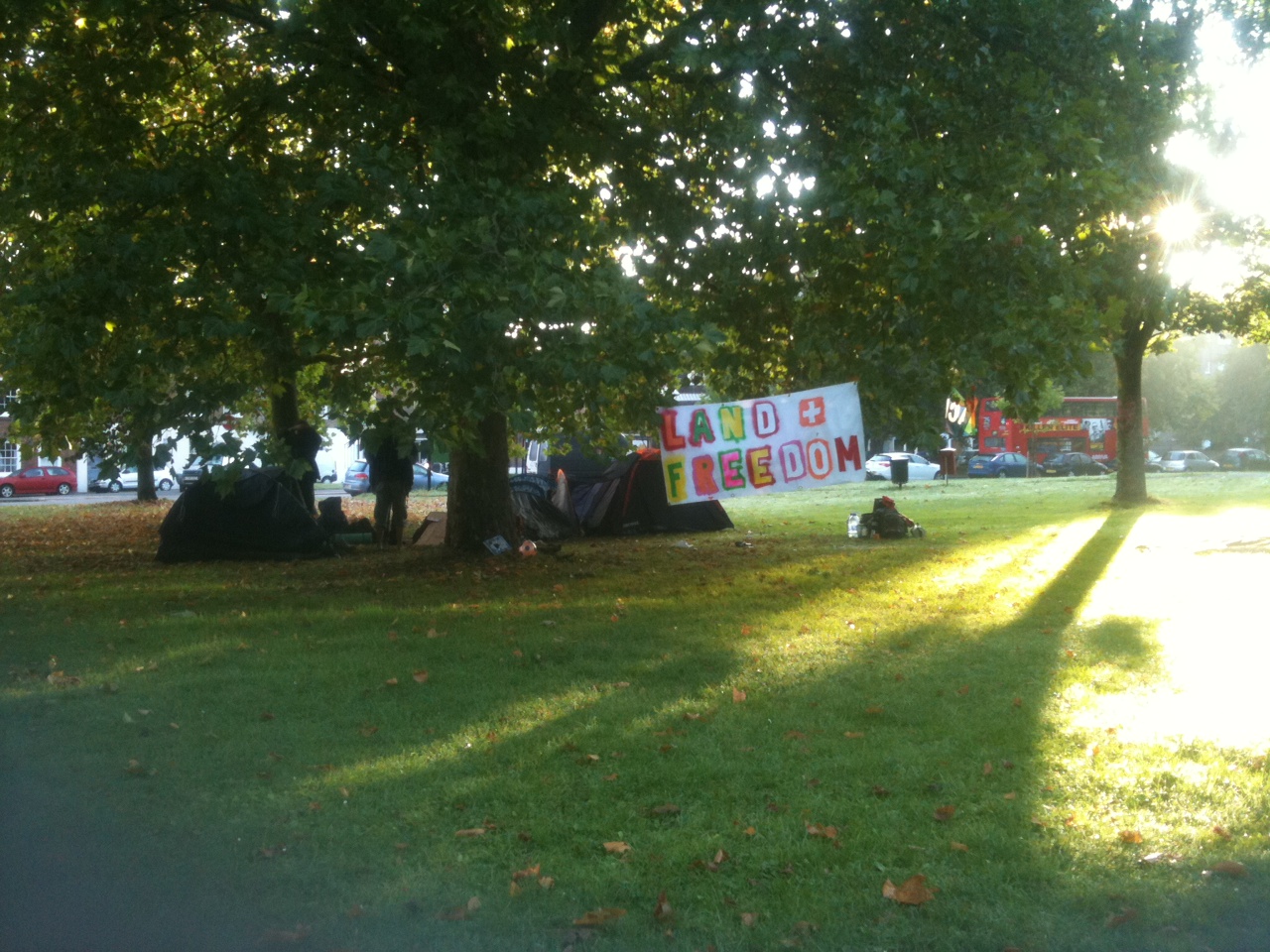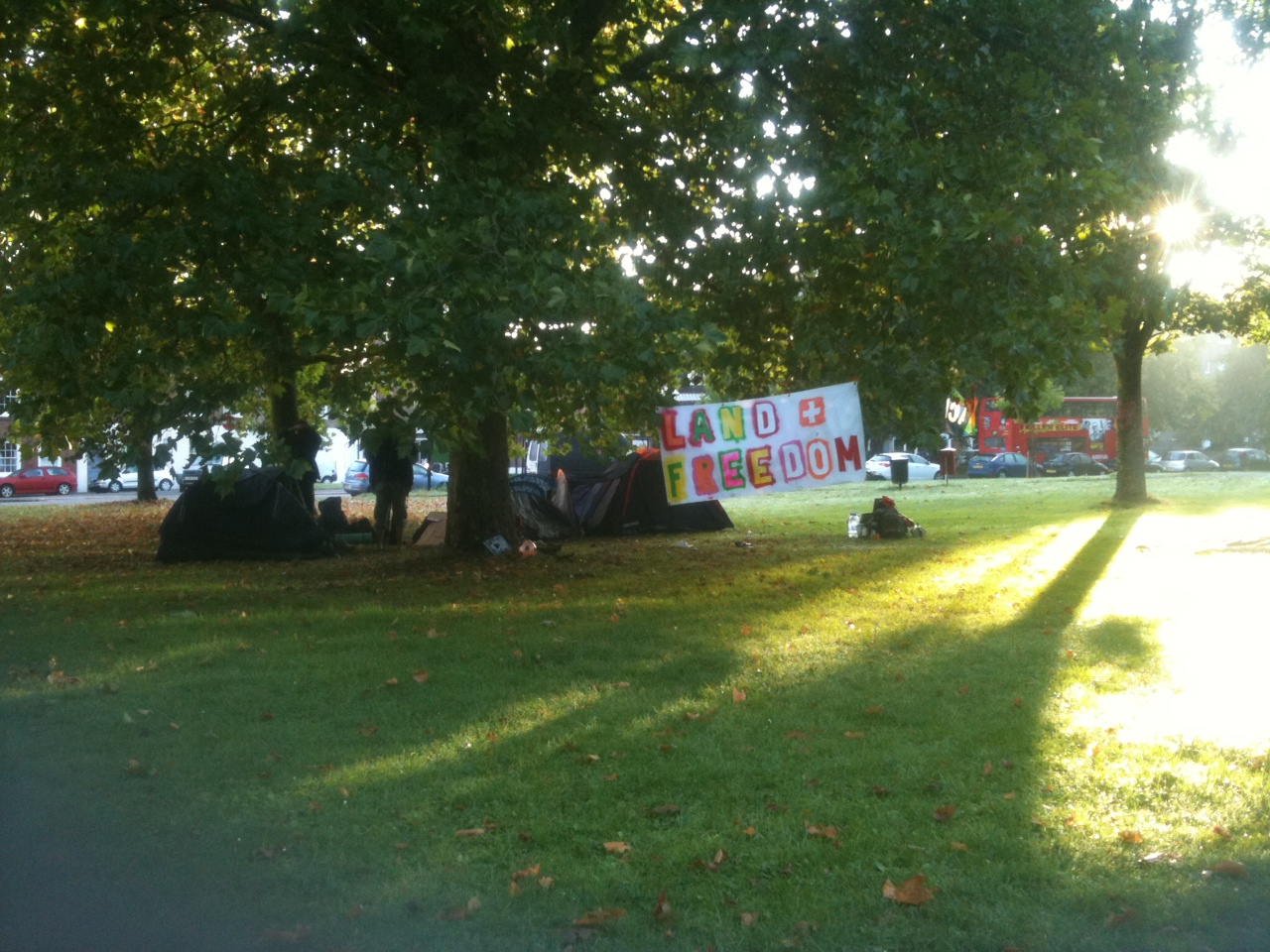 The atmosphere here is good.  We have setup an info point with fliers, books and information on many subjects relating to the land.  The locals seem to be enjoying our presence.  Tonight there is going to be a bike powered cinema screening of Winstanley, a dramatic film chartering the 17th century group of radicals and Gerrard Winstanley, an outspoken member of the movement.
This week we are setting up various workshops including a daily craft event, two yoga sessions daily (9-10 am & 6-7 pm).  Tomorrow (Monday) there will be a subterranean expedition.  If coming along, just come to the camp at 1 a.m.  Also on Wednesday night will be having a poetry and open mic session from 7.30 p.m.  come on down an express yourself (or enjoy the expression of others).
Finding us…
We are situated next to Holy Trinity Church on Clapham Common, about 5 minutes walk from Clapham Common station in the Old Town.  We're just opposite Clapham Library and Starbucks.  If you have any trouble finding us, call: 07963 465 195.  Also you can visit: www.landandfreedom.squat.net for more info.
If you want to join us for a spot of camping, please bring warm clothing, sleeping bag, a tent, a mug, bowl and spoon.  We're asking that people respect our request to keep our site free of drugs and alcohol
Everybody is welcome to bring ideas for presentations, topics of discussion, workshops, activities, musical and/or art performances relating to the core issues of the Land & Freedom Camp.
Please bring warm and water proof clothing, tents, food & water, food & water containers, informative banners and artistic materials.
We are especially looking for videographers, photographers, people with skills in real journalism, people willing to cook, laugh, discuss, communicate and who share a passion for the Land & Freedom Camp cause – Reclaiming the Commons!
If you would like to get involved and have any activities to suggest or skills to offer either come straight to Clapham Common or get in touch via e-mail – landandfreedomcamp@aktivix.org – or phone – 07963 475 195, to organise a time and day for your suggested activity, between today and the Sunday 25th of September 🙂
Please support us and help spread the word about the Land & Freedom Camp!
share the facebook event:
https://www.facebook.com/event.php?eid=281856581829845#
follow us on Twitter : @freetheland
share our website: www.landandfreedom.squat.net
Fliers and posters for sharing and printing.
Poster——–>https://we.riseup.net/land andfreedom/land-freedom-ca mp-poster+105652
Flier———–>https://we.riseup.net/asse ts/65289/Reclaim%20the%20c ommons1.pdf
Thank you and see you soon!
This Earth divided we will make whole so that it can be a common treasury for all.